Potassium Titanate Fiber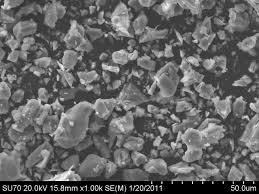 Potassium Titanate Fiber
Product Description
The
Potassium Titanate Fiber
is used as a reinforcing fibers in various composites of thermoplastics. Also, it has wide applications in friction modifiers for brake of automotives, precision filters and reinforcement materials for various plastics. It also acts as a white pigment. The Potassium Titanate Fiber has several characteristics including stiffness, high strength and quality of aspect ratio. It provides a long working life with extremely fine shape. These fibers have a high melting point and density that makes them highly reliable for their specific applications.
TINO - F

TINOTm F is high-performance reinforced Potassium Titanate Fibers in various size and length.

| | |
| --- | --- |
| TINOTm- F Products Feature | Excellent Friction Properties |
| High mechanical strength | The friction coefficients keep stable from room to high temperature, which assure smoothness of braking. |
| Excellent heat resistance | Wear is very small in high heat area which helps not to damage the brake disk. |
| High thermal insulation | Low friction noise during braking |
| High infrared reflectivity | |
| Extremely low coefficient of heat conductivity in high temperature. | |
Applications
As friction control agent (Brake Pad, Brake Lining, Clutch Piece, Brake Tile etc.).
As reinforcing agent of plastic composites (precision parts, heat resistant parts, anti wear parts etc.).
In Heat and wear insulation materials.
In Heat Resistant paint.

General Properties TINOTm - F

Average Fiber Diameter

pm

0.3-0.6

Average Fiber Length

pm

10 to 20

Bulk Density

g/cm3

0.25 Max

Water Content

mass %

<0.7

pH (dispersed in Water)

-

7 to 9

Melting Point

C

1,300 to 1,350